If you need to modify images on a frequent basis, you'll need a background removal tool. A backdrop remover, such as VanceAI BGremover, may help you remove image backgrounds while also giving your photographs a fresh aesthetic that you can utilize for a variety of applications.
BGremover has more features in addition to removing backgrounds. You can change the empty backgrounds to something more appropriate for your style. You also receive tools for improving colors, adjusting lighting, adding artistic filters, and fixing flaws. Photographers now have all they need to accomplish their desired outcomes with VanceAI BGremover. You can also utilize other improvement tools with VanceAI to further enhance an image.
VanceAI Can Help with Image Editing
VanceAI BGremover is a simple and effective solution for customers who want to remove backgrounds from product or object photos. It is intended to make the procedure as simple as possible by removing the need for intricate manual techniques or expert editing abilities. Users can produce professional-looking outcomes using AI background remover with little effort. BGremover's ability to precisely detect the topic in an image and remove the background around it is one of its most outstanding features. The subject is left unaltered while the undesired background is removed thanks to powerful AI algorithms. This automatic procedure saves users a significant amount of time and makes background editing simple.
BGremover also features a Transparent Background Maker, which allows users to make backgrounds transparent. This function is particularly useful when users wish to maintain only the subject and not the background. It allows for easy modification and seamless integration of images into various designs or compositions. The Transparent Background Maker provides users with a plethora of creative options.
AI Image Enlarger works in tandem with BGremover to provide users with a vital tool for improving the quality of their images. Users who have successfully removed backgrounds with BGremover may wish to upscale their photographs without affecting their visual attractiveness. Users can increase their photographs up to 8 times the original size with the online edition of VanceAI Image Upscaler. This outstanding capability allows users to enhance image dimensions while keeping fine details and overall quality. Not to mention that VanceAI PC's Image Upscaler can upscale images up to 40 times their original size.
By including VanceAI Image Upscaler into their creative workflow, users can confidently upscale photographs, keeping visual integrity and clarity even at bigger sizes. The powerful synergy of VanceAI technologies, including BGremover and Image Upscaler, enables users to precisely and easily enhance their images, resulting in higher quality and more appealing content.
Using an Online Background Remover
VanceAI BGremover is simple to use and fast. To learn more, follow the steps below.
Step 1: To begin, navigate to the BGremover page using the provided URL. Once you've arrived at the page, click the "Start Now" button to access the Workspace.
Step 2: Now, upload the image to be edited. You'll be able to choose whether the image's main focus is a human person or an object. After you've made your choice, click the "Start to Process" option.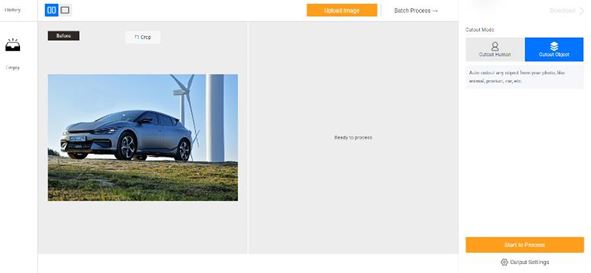 Step 3: The final image will display on the screen in a few seconds. You may then save the snapshot by clicking the download option.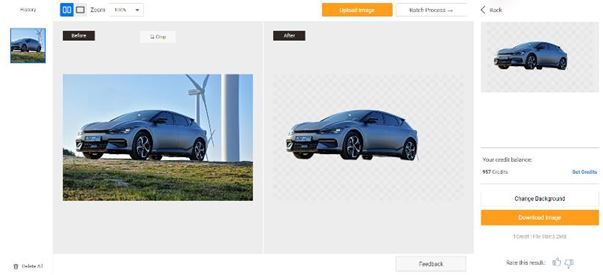 When users have completed the backdrop removal process, they can access the backdrop Changer page by selecting the "Change Background" option. This feature allows users to easily replace the transparent background with any picture or background they like.
VanceAI Image Upscaler Online Help
AI Image Enlarger can upscale photographs to eight times their original size.
Step 1: Navigate to the AI Image Enlarger tool's webpage using the provided URL. To access the Workspace, locate and click the "Upload Image" button on the page.
Step 2: Enter the Workspace and upload the image you want to expand. You can tweak the controls to meet your individual needs. After making the necessary changes, you can begin processing by clicking the "Start to Process" button.
Step 3: When the picture processing is complete, the tool will create an upscaled version of the image. Simply click the "Download Image" option to save the enhanced photo to your device.
Pricing for VanceAI
When customers register an account with VanceAI, they receive three free image credits per month. This allows users to freely explore and use the various tools offered on the platform without spending any money. VanceAI, on the other hand, offers subscription plans at a reasonable rate for individuals who demand access to more advanced capabilities and a broader variety of functionalities. Among these programs, one stands out for its amazing pricing, costing only $4.95 per month. Users who select this plan will receive 100 picture credits, allowing them to modify and enhance their images based on their unique needs and preferences.
Final Verdict
VanceAI BGremover is a useful program for inexperienced users, offering a simple and user-friendly solution for modifying pictures and backgrounds. Users can reliably remove backgrounds from their photographs with fairly accurate results without the requirement for specialized abilities or substantial editing experience. The precision of the tool guarantees that the subject is preserved while undesirable backgrounds are successfully removed, resulting in clean and seamless results. VanceAI BGremover also features PNG Maker, which converts uploaded images to PNG format. This conversion method improves editing capabilities and image quality overall. PNG files are well-known for retaining transparency, making them perfect for additional editing without losing information or clarity.
Additional VanceAI Tools
VanceAI Image Enhancer is critical in improving the visual quality of modified photos that have gone through the BGremover procedure. This important tool enhances the overall appearance of photographs without requiring enlargement. The Image Enhancer automatically improves tiny details, sharpness, and overall image quality by employing advanced AI algorithms. As a result, the image is streamlined and engaging, capturing attention quickly and leaving a lasting impact.
Similarly, VanceAI Art Generator is an AI-powered tool that assists users in creating aesthetically stunning images in seconds. Any user can bring their ideas to life with the help of AI Art Generator. This tool opens up a world of creative possibilities for users, allowing them to integrate artistic expression into their pictures and genuinely stand out from the crowd.